Facility summary
Kasugayama park is park which can enjoy rich nature while being near 15 minutes and the comparative city area from JR Katata Station. In park adjacent to Kasugayama old burial mound group, there are many old burial mounds in garden.
In village forest field and biotope pond, we can observe various creatures. In addition, in symbol zone, children have a lot of athletic playground equipments of extreme popularity. Furthermore, we can enjoy baseball and soccer at multipurpose ground.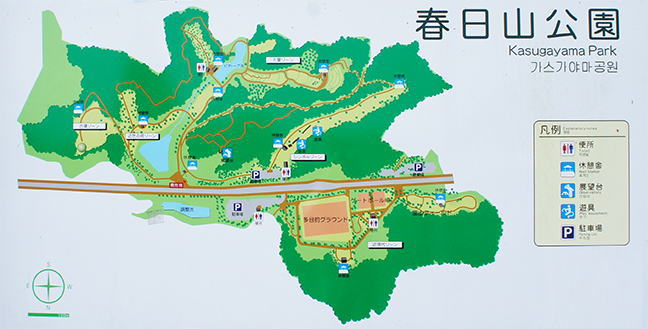 Park information
| Fee for entering kindergarten | Parking lot | Address |
| --- | --- | --- |
| Free of charge | Free of charge | Manotaniguchicho, Otsu-shi, Shiga |
Downloading of application style
You download application from the item mentioned above and you fill in necessary matter and seal thing which made prints, and you have to office, or send by mail.
As examination period is necessary for issuance of act letter missive in park, please submit application two weeks before planned day.
Association of association of designated manager Otsu-shi greenery, (no company) Shiga landscape gardening west district community
〒520-0047 4-1-1, Hamaotsu, Otsu-shi
TEL: 077-527-8806/FAX: 077-527-8828