Obanagawa Park
Facility summary
There are wide lawn open space and pleasant playground equipment, and this park established as mild obi with biwako kyoteijo in 1954 is got close to widely as oasis of neighborhood inhabitants.
The location of park
[access]
JR Kosei Line Otsukyo Station drop off walk approximately 11 minutes
Keihan Bessho Station drop off walk is immediate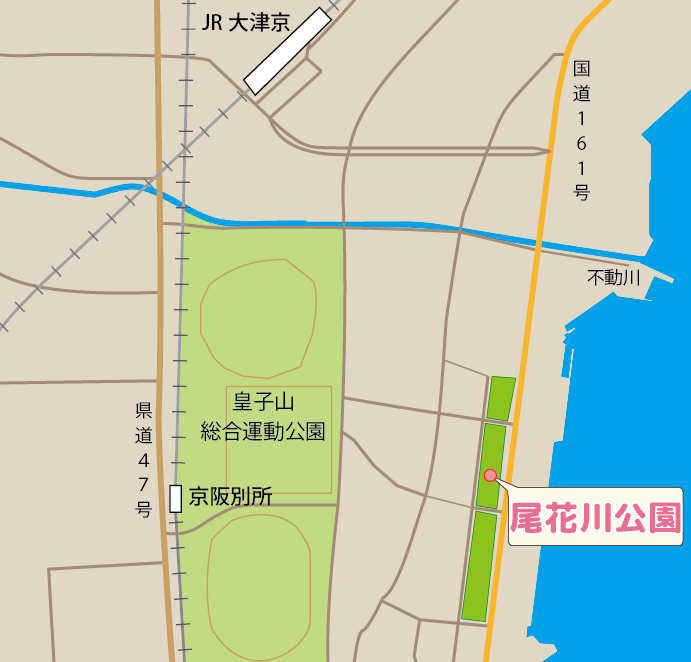 Downloading of brochure
Brochure list (PDF 1.0MB)
The brochure back (PDF 490KB)
Downloading of application style
You download application from the item mentioned above and you fill in necessary matter and seal thing which you printed, and you have to office, or please send by mail.
As examination period is necessary for issuance of act letter missive in park, please submit application two weeks before planned day.
Association of association of designated manager Otsu-shi greenery, (no company) Shiga landscape gardening west district community
〒520-0047 4-1-1, Hamaotsu, Otsu-shi
TEL: 077-527-8806/FAX: 077-527-8828
Photograph of park
Slide, swing

State of park

Flower bed

Elephant playground equipment

Restroom

Furnace bench (okudosan bench)

Large lawn open space